Powerful. Reliable. Long-Lasting.
---
KDE Direct has manufactured brushless motors for drones and UAVs for over ten years. With heavy-lift motors for the longer flight times and larger weights, KDE Direct has a range of motors from multi-rotor to single-rotor for specific applications. Our components have been in the aerial filming of the biggest global opening in movie history as well as delivering medicine to those in need in Africa.

Aerodynamic design along with an IP56 rating provide your motors and fully enclosed components with protection in demanding environments. KDE Direct motors are trusted in dusty construction sites, flying in rain or wind, or where weather conditions might change quickly.

Our Electronic Speed Controllers (ESCs) are tuned and optimized for the KDE Direct UAS Multi-Rotor and KDE Direct UAS Single-Rotor Series. For optimal selection of KDE Direct equipment, please reference the Build Your System application.


Propeller Blades, Adapters, and
Torque Wrenches
---
KDE Direct also offers carbon propeller blades, propeller blade adapters, torque wrenches, and propeller adapters. Our UAS Multi-Rotor Propeller Blade Series provides high-quality, CNC balanced true-3K carbon fiber matrix propeller blades ideal for commercial and industrial transportation vehicles. Our UAS Propeller Blade Series has been crafted for easy bolt-on installation to the
Multi-Rotor Brushless Series
and
Multi-Rotor Propeller Blade Adapters
for unprecedented flight performance.
KDE Direct's
Electronic Speed Controllers (ESCs)
bring next-generation technology for UAS and multi-rotor applications to life. Equipped with an all-aluminum 6061-T6 case for cold weather, the UAS UVC series can be used in a wide range of environments backed by its IP66 certification for all-weather operation.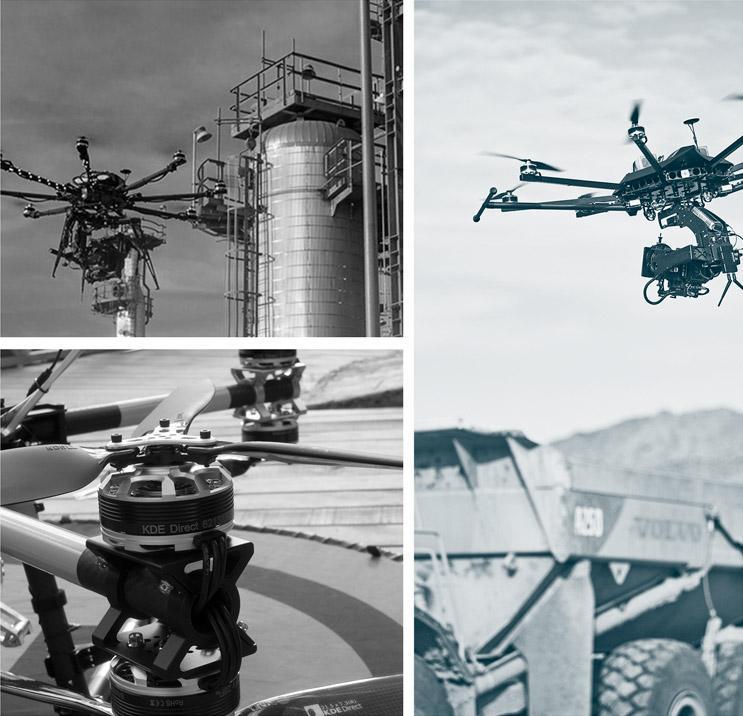 Designed and Engineered in the USA
---
KDE Direct's brushless motors are designed and engineered in the United States. Our motors provide power, performance, and efficiency. KDE Direct motors are
engineered for remarkable efficiency and power that push the limits of today's technology. Our motors are designed to provide market-leading performance and
zero-vibration operation for hours of maintenance-free usage and market-leading performance.
Brushless Motor Advantages:
Brushless motors have higher efficiency and performance and a lower susceptibility to mechanical wear than brushed motors.
High torque per watt of power input (increased efficiency)

High torque to weight ratio

Reliability with low maintenance requirements

Decreased operational and mechanical noise

Extended lifespan (no brush and commutator erosion)

Removal of ionizing sparks from the commutator (ESD)

Near-elimination of electromagnet interference (EMI)
UAS Multi-Rotor Brushless Motors

`> `>